A 20% discount on overweight baggage, so you don't have to worry
What do you do when you have bought too much and your luggage is heavy
and you have to pay more in additional baggage fees?
Shenzhen Airlines has recently introduced a 20% discount on additional baggage fees
So, let's take a look!

Helps you set off flags for careful budgeting
Let us show you
what this new deal can do for you
Tip 1: Surprisingly low price at 20% off
Save 20% off regular price when you book your overweight baggage in advance
Purchase for the following routes
and save a bundle

For example
1. Domestic flights: Shenzhen - Shanghai (based on one piece of baggage that is 20 kg overweight), original price on-site would be 460 yuan, but with the discount is only 368 yuan.
2. International flights: Shenzhen - Bangkok (based on one piece of overweight baggage), original price on-site would be 700 yuan, but with the discount is only 560 yuan.
(*Original price for domestic flights is 1.5%/kg of a full price Economy Class ticket; original prices for international flights employ tiered pricing according to different routes.) Prices specified on the website shall prevail.
Tip 2: Easy online processing saves time and is hassle-free
Hurry to the check-in counter
and find out if your checked luggage requires extra fees for excess weight.
You have to wait for the attendant to hand you an invoice
and rush back and forth between the faraway cashier's counter and the check-in counter
Not only is the fee high enough to break your heart
But the journey back and forth will make you exhausted

Now, all your problems have been solved
Just book at least 6 hours before your flight on the Shenzhen Airlines app
Confirm at the check-in counter to complete the check-in process
The efficient and convenient process simplifies the passenger check-in process
Significantly reduces check-in time
and saves you both time and hassle
Book in advance
(Currently only available on the Chinese version of the Shenzhen Airlines app. Passengers in other languages can proceed using the following screenshots)
1
Open the Shenzhen Airlines app and select Shenzhen Airlines Easy Go (深航易行)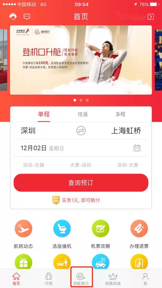 2
Select Additional Baggage(额外行李)
3
Enter ID number or ticket number
4
Travel Options Purchase Additional Baggage (购买额外行李)
5
Select weight (重量) and confirm payment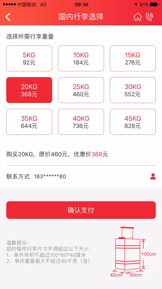 You will receive a confirmation message after the reservation is complete so be sure to check!
Reminder
1. This product is a paid service provided by Shenzhen Airlines for passengers with additional baggage and is not in conflict with passengers carrying carry-on baggage and free checked baggage as provided by Shenzhen Airli nes in the original ticket price. Please purchase according to your needs.
2. Passengers must pre-purchase overweight baggage via the Shenzhen Airlines app at least six hours before their flight is set to take off and before they check in.
3. Passengers should inform ground staff that they have pre-purchased overweight baggage to avoid repeated charges when checking in at the check-in counter. (Check your details using "Me" - "All orders" - "Additional bags")
4. Passengers can only purchase one piece of baggage at a time. Those who need to purchase multiple pieces of baggage must do so for each piece of baggage.

Never again will you miss out on that must-have item because of baggage limits
A 20% discount saves you money immediately
Worry-free travel
Don't forget this discount for overweight baggage the next time you travel